Weekly Athletic Schedule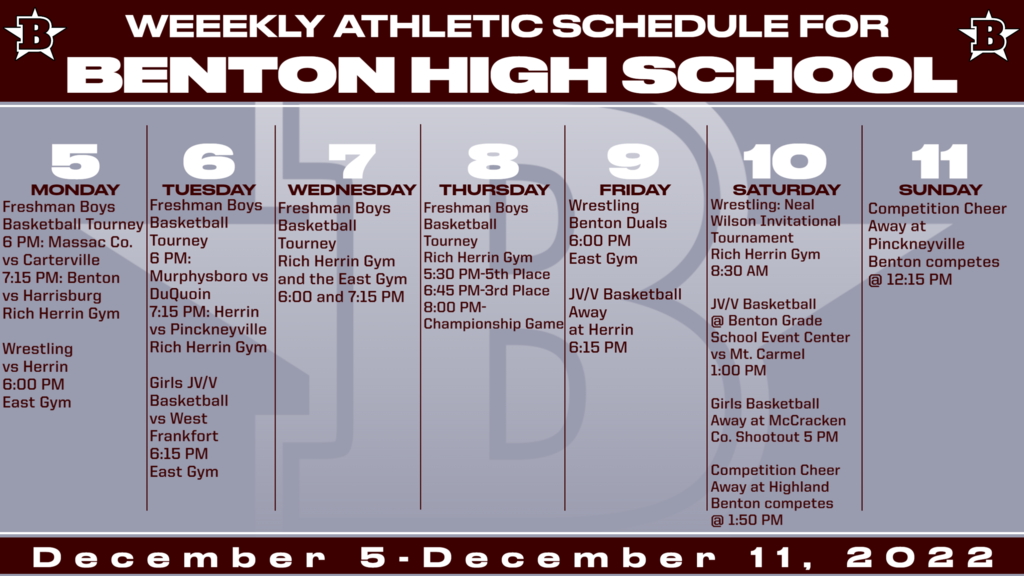 Boys Basketball Freshman Tourney Bracket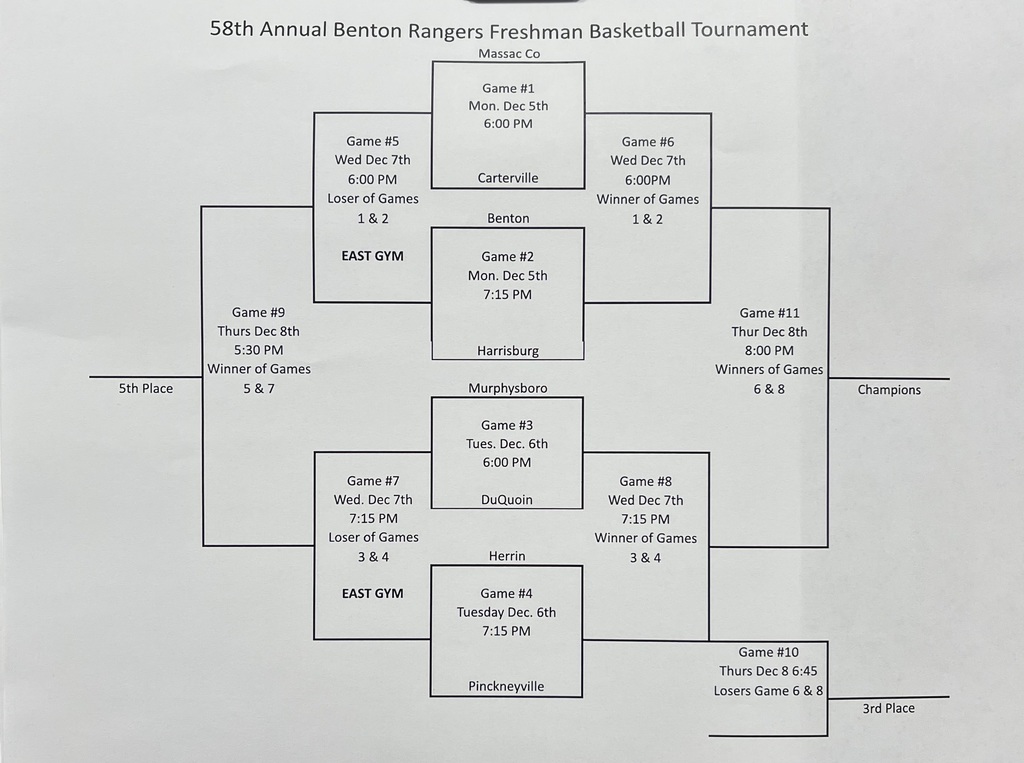 There will be a Survivor Walk at the Pink Out Game December 16th during halftime at the varsity basketball game. If you are interested in participating, please contact
lsmith@bentonhighschool.org
before December 14th.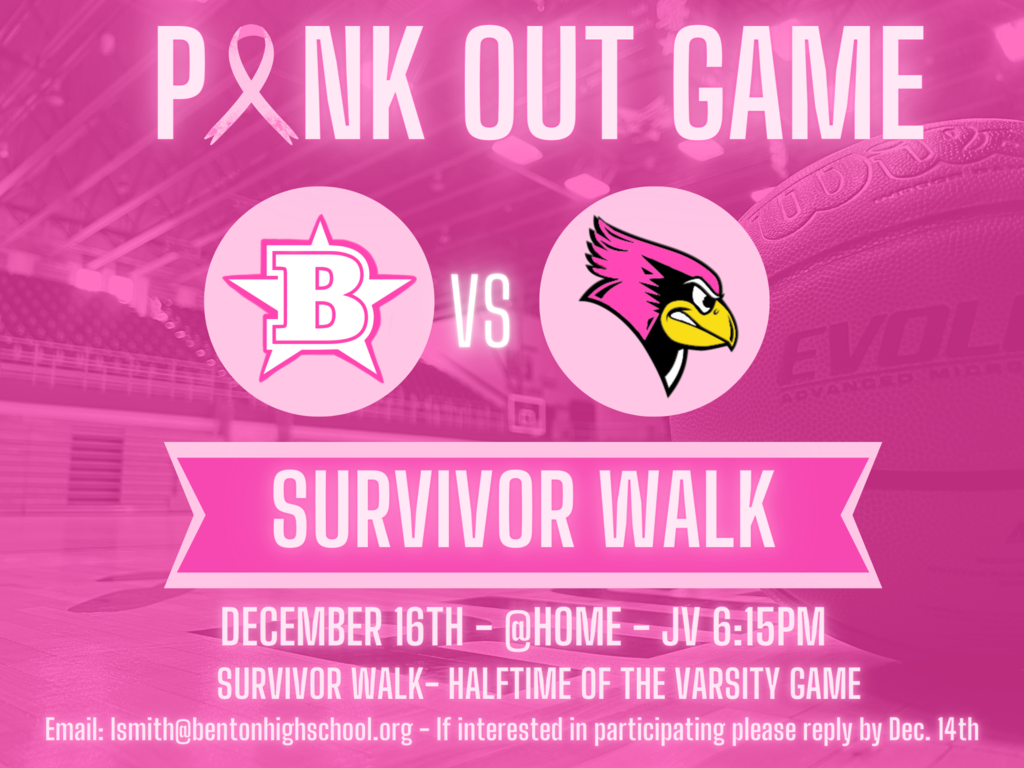 Congratulations to Mr. Sloan for being the recipient of the Ronald McDonald House Charities Grant! Mr. Sloan sought out and wrote for the RMHC grant to improve academic success for his students. The money will be used for incentives in his classroom. Thank you to Mr. Sloan for your extra effort and to McDonalds for funding his classroom needs.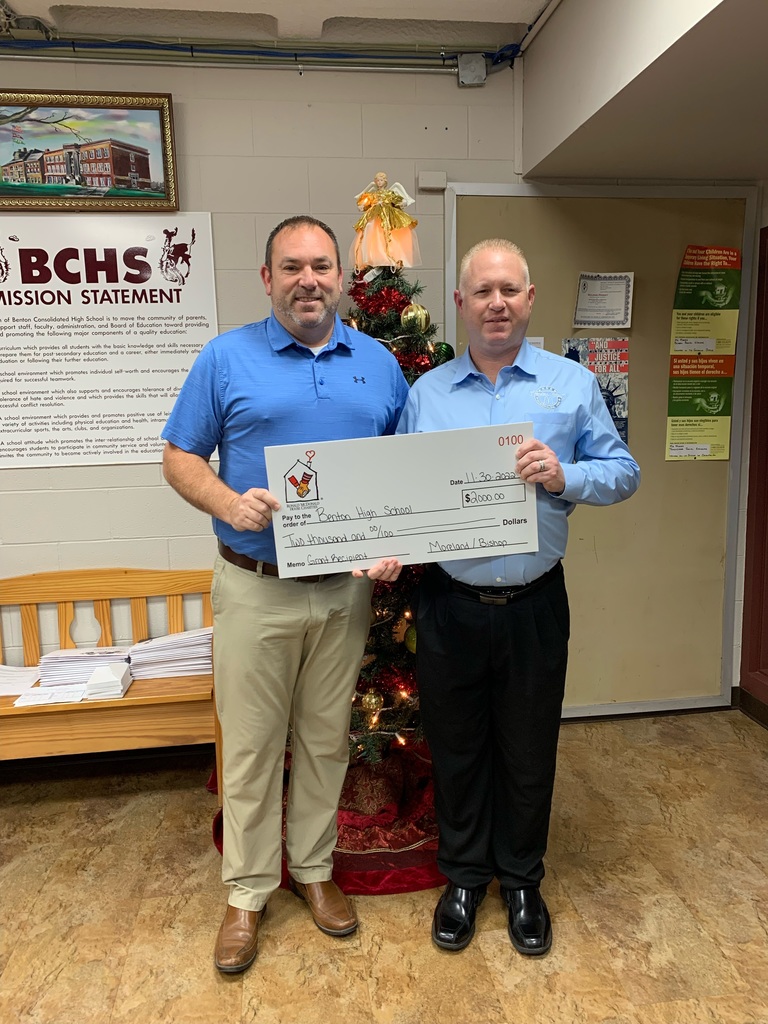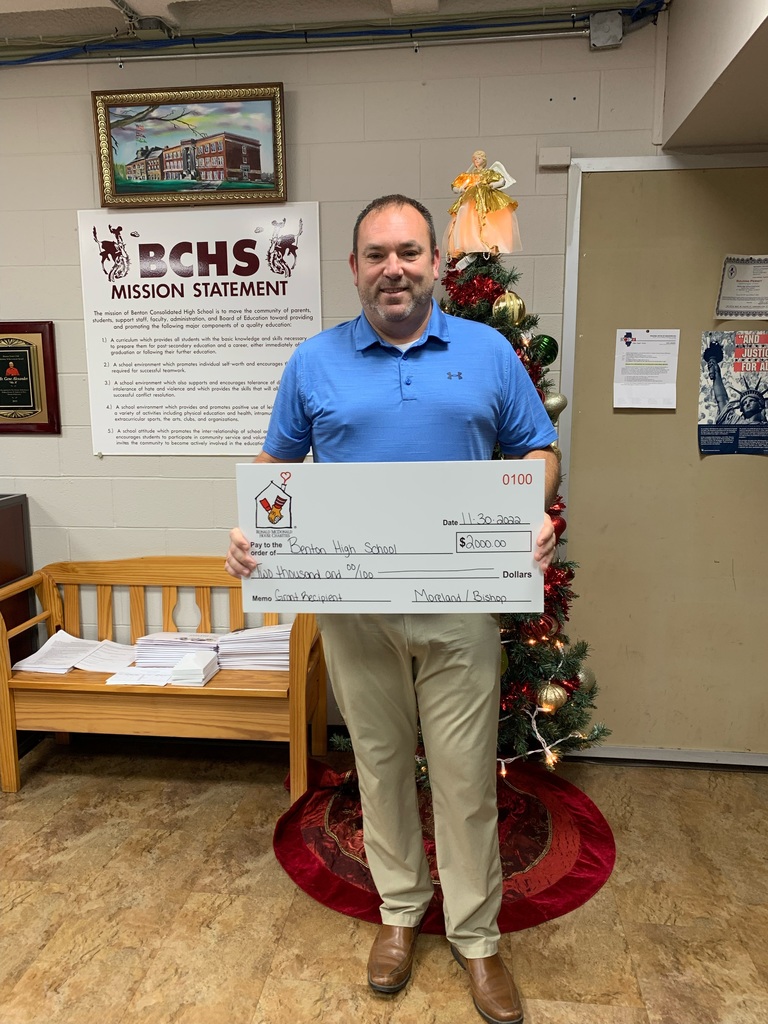 The 2022 Benton Rangers Pink Out Shirts are officially on sale! 100% of the proceeds will go to benefit Ms. Clydette Barnfield in her breast cancer journey. This shirt is great for both Benton and West Frankfort fans! Order forms with cash or check must be turned in to the BCHS office or to Mr. Lucas Roberts, Pep Club Sponsor, by December 5th at 3PM. Order forms can be found at the following link:
https://5il.co/1l91l
If you have any questions please reach out to Lucas Roberts at
lroberts@bentonhighschool.org
. Let's unite together and support a great teacher and person!

As we enter the winter season, BCHS will again utilize e-learning if school is cancelled due to snow, ice, etc. The e-learning plan is available on the district website in the menu under documents/Students & Parents. Students should take their chromebook home each night, which will assist with any work assigned for e-learning. The decision to utilize an e-learning day will be announced at the same time school is cancelled.
Weekly Athletic Schedule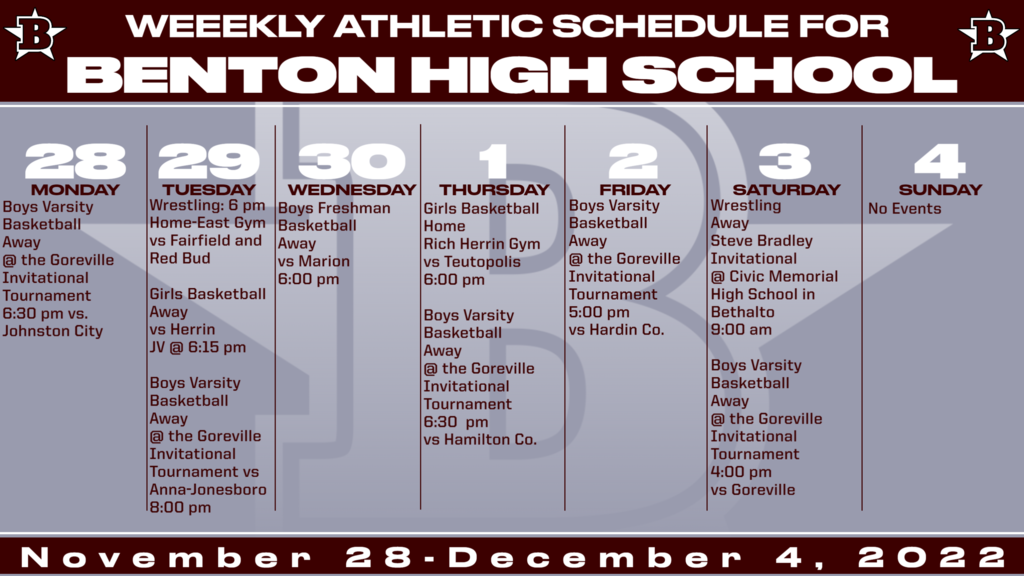 BCHS will dismiss school at 1:50 on Tuesday, November 22, and there will be no school on Wednesday, Thursday, or Friday of this week. Have a Happy Thanksgiving!
Weekly Athletic Schedule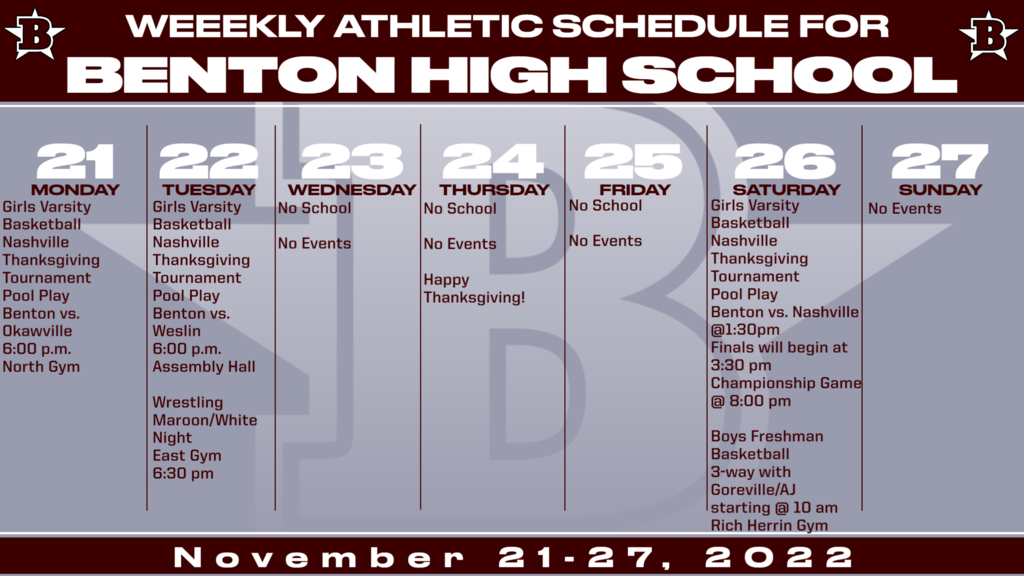 The Benton Pep Club is starting the first ever Benton Rangers Basketball Pink Out Game this season! This will take place on December 16th, 2022 vs the West Frankfort Redbirds. We will be selling Pink Out T-Shirts to help raise money for Ms. Clydette Barnfield, who is battling breast cancer. The proceeds of this event will go toward her traveling and medical expenses. We are looking for sponsors to help support this event. If you would like to become a sponsor, please reach out to Lucas Roberts, Pep Club Sponsor, at
lroberts@bentonhighschool.org
or call 618-439-3103, ext 149. The levels of sponsorships are attached in the image below. The deadline for sponsorships is December 1st! We want to make this event the best possible and it can not be done without your help! Here in Ranger Nation, we always seek to help one another in times of need. Let's rally and support a great teacher and even better person!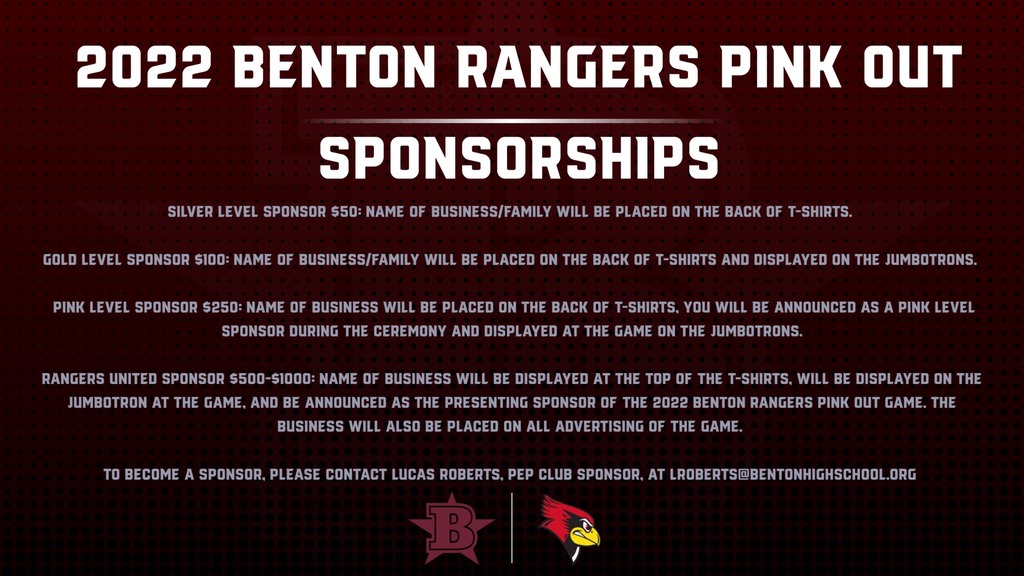 Weekly Athletic Schedule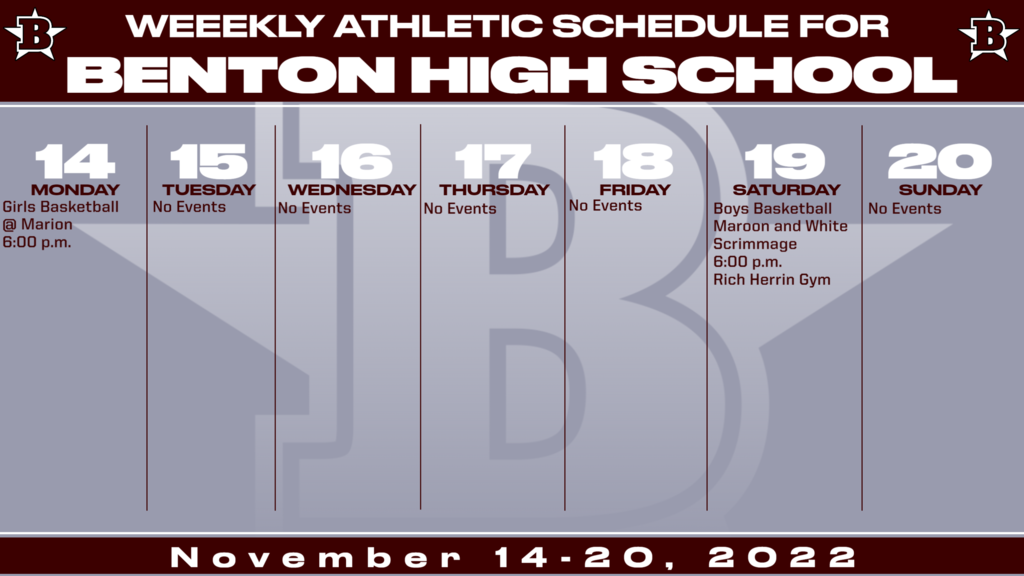 There will be no school on Tuesday, November 8 and Friday, November 11 due to election day and Veteran's Day. We strongly encourage everyone to exercise their right to vote and take time to honor our Veterans.

Friday, October 28 is a Teacher Institute Day at BCHS. There will be no student attendance.
Weekly Athletic Schedule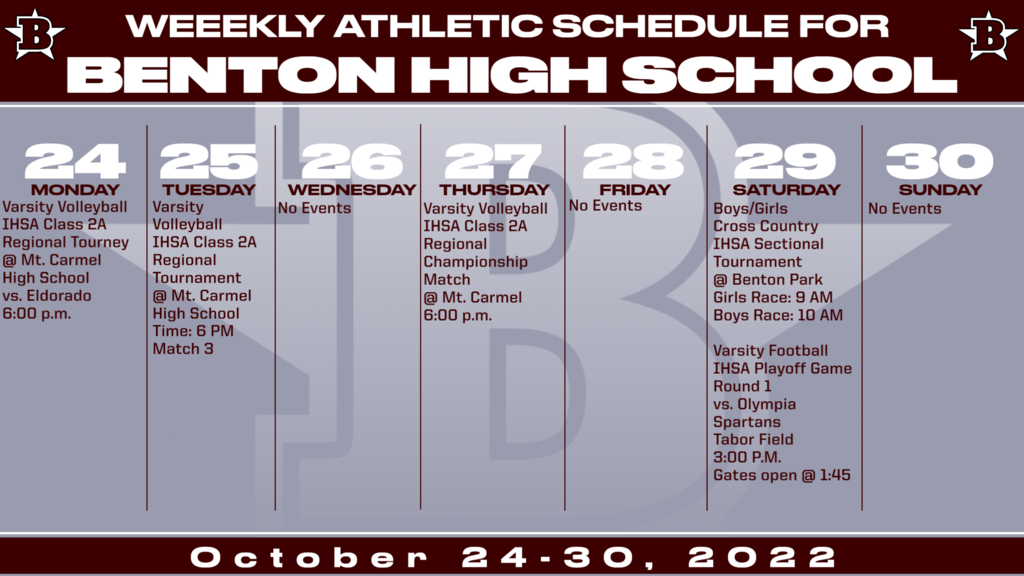 Benton Consolidated High School District #103 is currently accepting applications for the following position for the 22-23 School Year: • Teacher Aide Applications must include the following: • Letter of application • Application Form (found at this link:
https://5il.co/q9hy
) • Resume with references Applications should be should be sent to: Benton High School Superintendent's Office 511 East Main Street Benton, IL. 62812 or via email to
bjohnson@bentonhighschool.org
Application deadline is 3:00 p.m., Friday, November 4, 2022.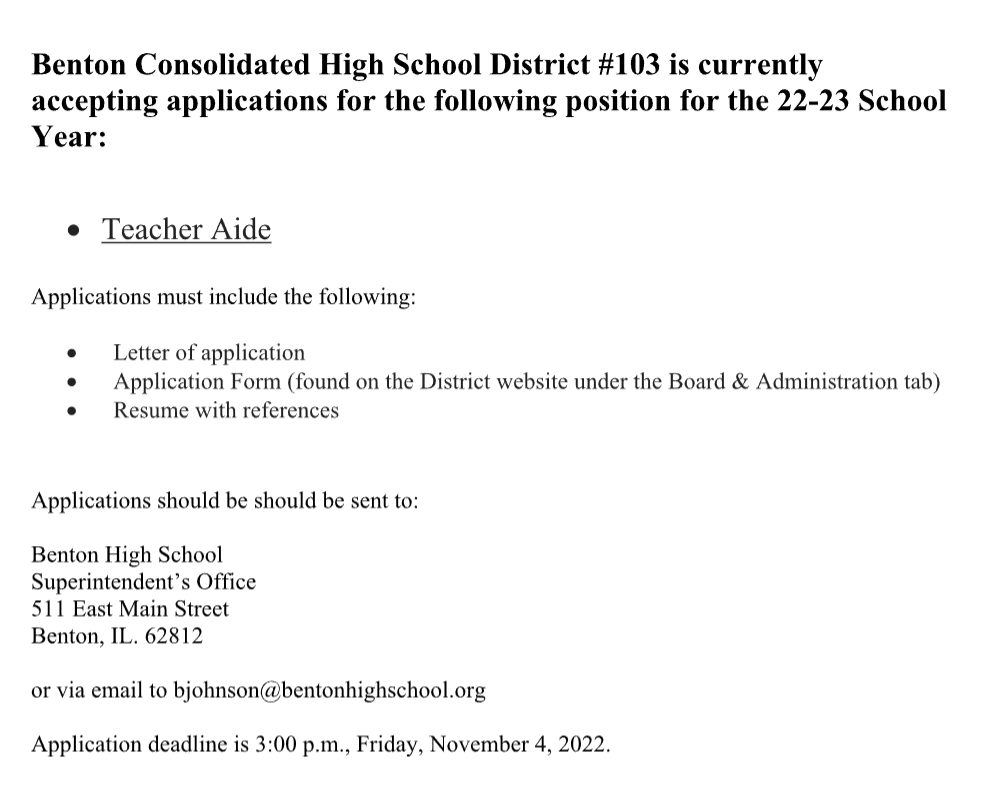 Weekly Athletic Schedule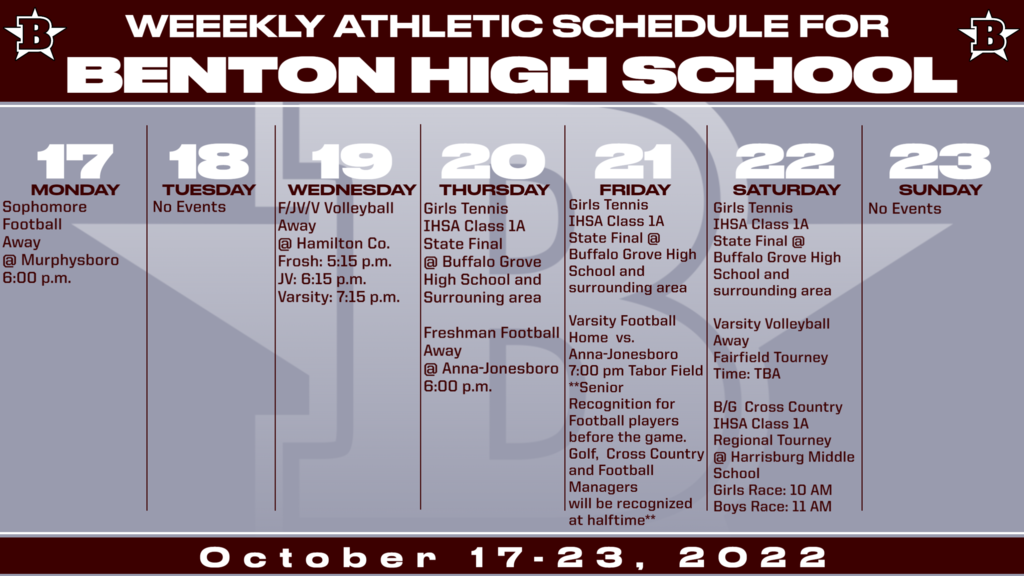 Parent/Teacher conferences will be held on Oct. 18 & 20 from 3:00-6:00 in Rich Herrin Gymnasium. No appointment is necessary. All teachers will be available to conference regarding your child's academic progress. Students will be dismissed at 1:50 p.m. on Oct. 18 & 20.
Athletic Schedule for the week of Fall Break