Homecoming 2022 dress-up days for the week of September 12. Flyer credit: Delaney Leffler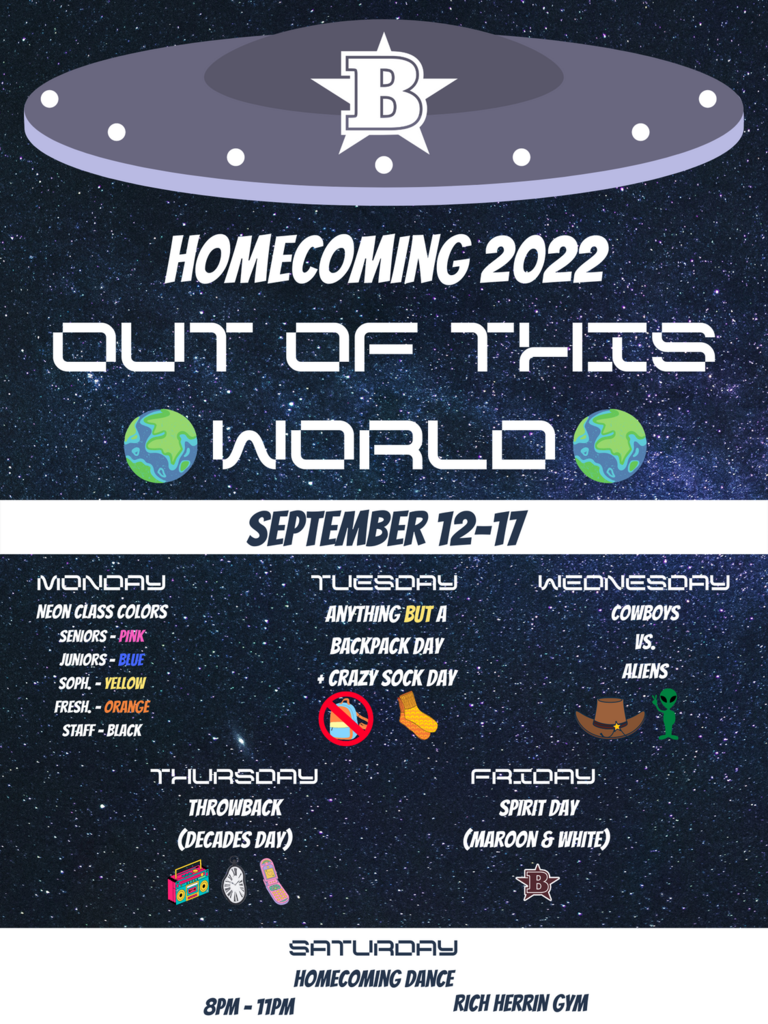 Weekly Athletic Schedule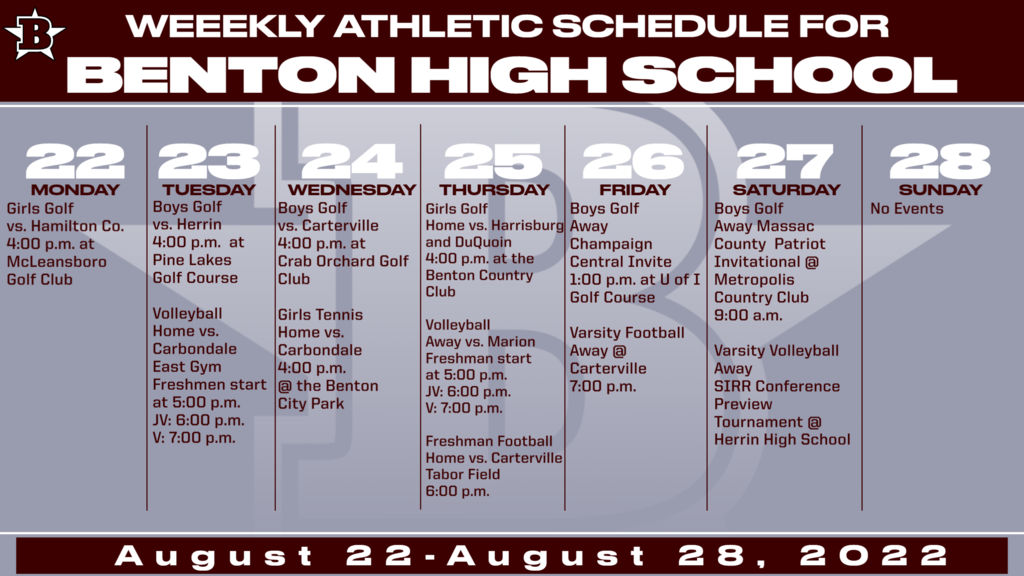 This Week in Athletics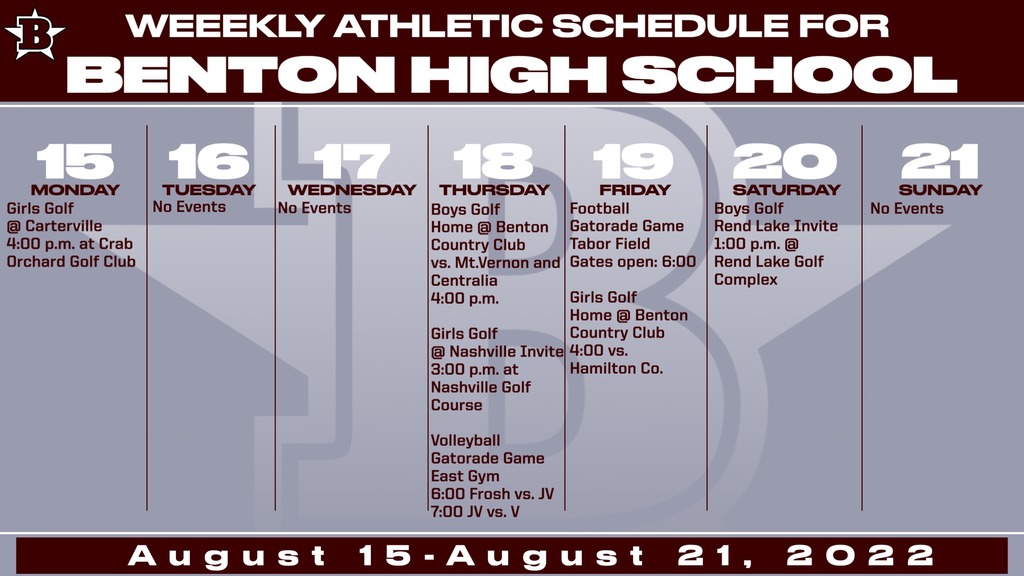 Starting Monday, August 22nd, we will begin our normal school day schedule. Doors will still be open at 7:30am with 1st Period starting at 8:05am. School will dismiss at 2:50pm. Wednesdays will still be an Early Dismissal schedule with school ending at 1:50pm.

Phones are now back online, we apologize for the inconvenience.
Parents: we are currently experiencing a brief phone service outage. If you need to reach the school, please email
khead@bentonhighschool.org
.

Reminder to parents and students: BCHS will follow the 1:50pm Early Dismissal schedule for the first two weeks of school, until 8/19.

Attention: Beginning Tuesday, August 9th, student parking for the 2022-23 school year has moved from the South lot across from Rich Herrin Gym to the East lot next to Tabor Field Stadium. Parking will be on a first come/first serve basis. Students will need a parking pass by August 15th. They will be available in the Main Office at no cost. Parent drop-off and pick-up of your child will be in the South lot (the former student parking lot). Visitors to BCHS will also park in the South lot.

Reminder to band students: Band Camp is next week, August 1st through the 5th, from 9am-1pm. If you have an instrument, you should bring it. If you have any questions, especially in regards to renting an instrument, please email Mr. McDaniel at
tmcdaniel@bentonhighschool.org
.

BCHS has the following immediate openings: Part-Time Assistant Cook Full-Time Cook Application information is available in the attached picture and on the district website.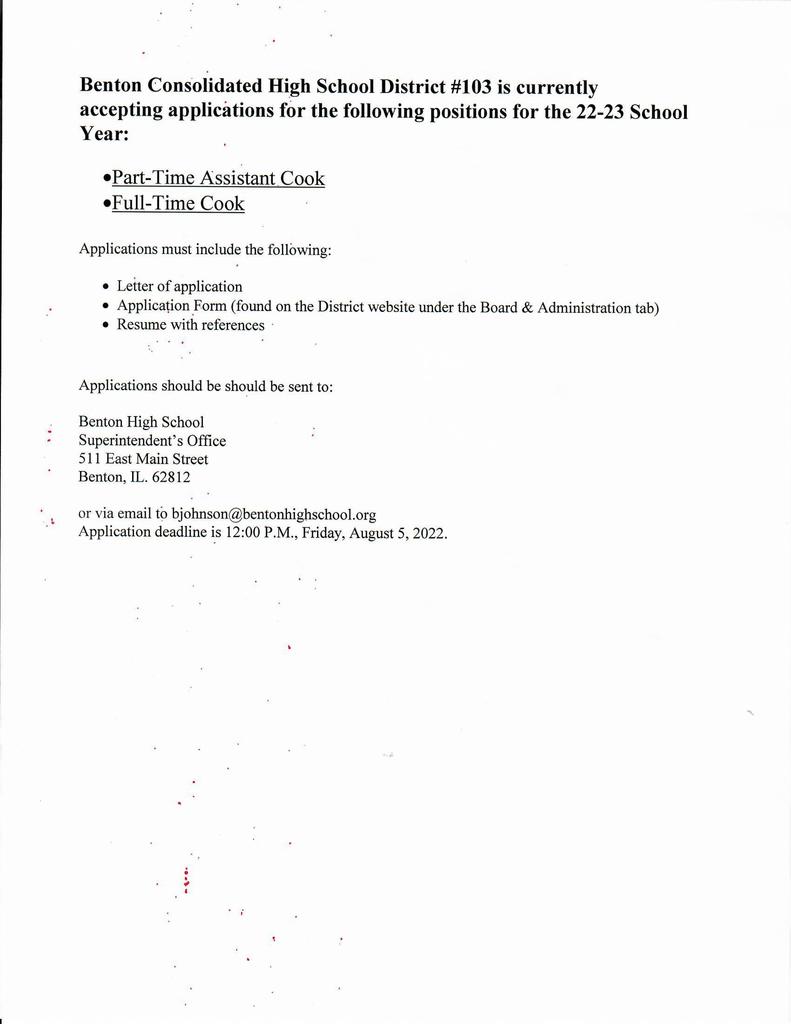 Save the Date BCHS Homecoming 2022!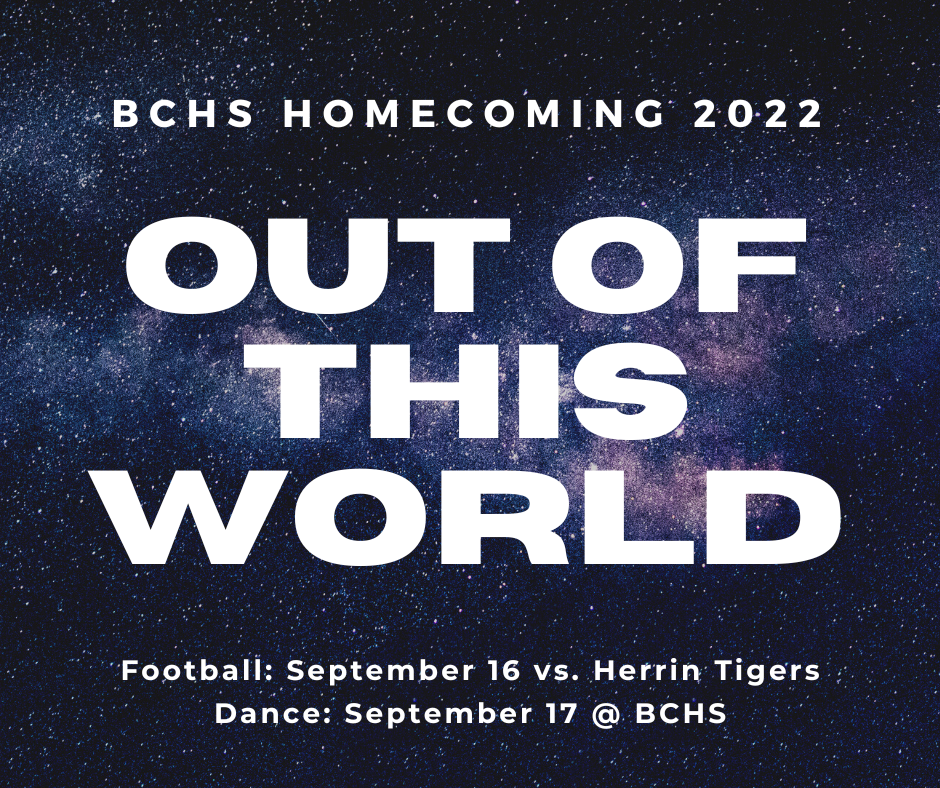 Reminder for the class of 2022: Diplomas are available for pickup from the reception office at the high school, Monday through Thursday, 8am-3pm.

A letter has been mailed out to parents with information about online registration, school fees, medical information, freshman opening day, school pictures, parking permits, yearbooks and Chromebooks. A few important highlights from the letter: -All students should come to BCHS on either day (July 27 from 12-3pm or July 28 from 8:30-11:30am) for picture day, pay $10 student fee, make payment for lunch and/ or breakfast, order a yearbook, and take care of parking permit information (Soph, Jr, Sr). -Online registration will be available from July 18-28. If you already have a parent/guardian TeacherEase account, you will use that to register your student. If we have your email address on file, you should receive an email from TeacherEase this week with a link to set up your account. If you do not receive an email by the 18th, please contact us at
onlineregistration@bentonhighschool.org
, with your name, the name of the students you are registering, and your relationship to those students. -For those families that have connectivity issues or need assistance with the online registration process, a parent/guardian may come to BCHS for online registration on July 27 from 12-3pm or July 28 from 8:30-11:30am. -The Freshmen "opening day" will take place on July 28 from 12-2pm, this is not mandatory, but allows freshmen the opportunity to become more familiar with the building. -School pictures will be taken for students on July 27 from 12-3pm or from 8:30-11:30am on July 28. -Further information can be found in the letter sent home to parents/guardians, and the text of the letter can be found at the following link:
https://www.bentonhighschool.org/article/781564

BCHS would like to welcome Mr. Sean Docherty as our principal. Mr. Docherty was hired last week, and started work here on Tuesday, July 5th. He comes to us from Mt. Vernon High School where he served as an assistant principal. Welcome Mr. Docherty!

All extracurricular events and practices tonight, March 30, 2022, have been cancelled due to the potential of bad weather.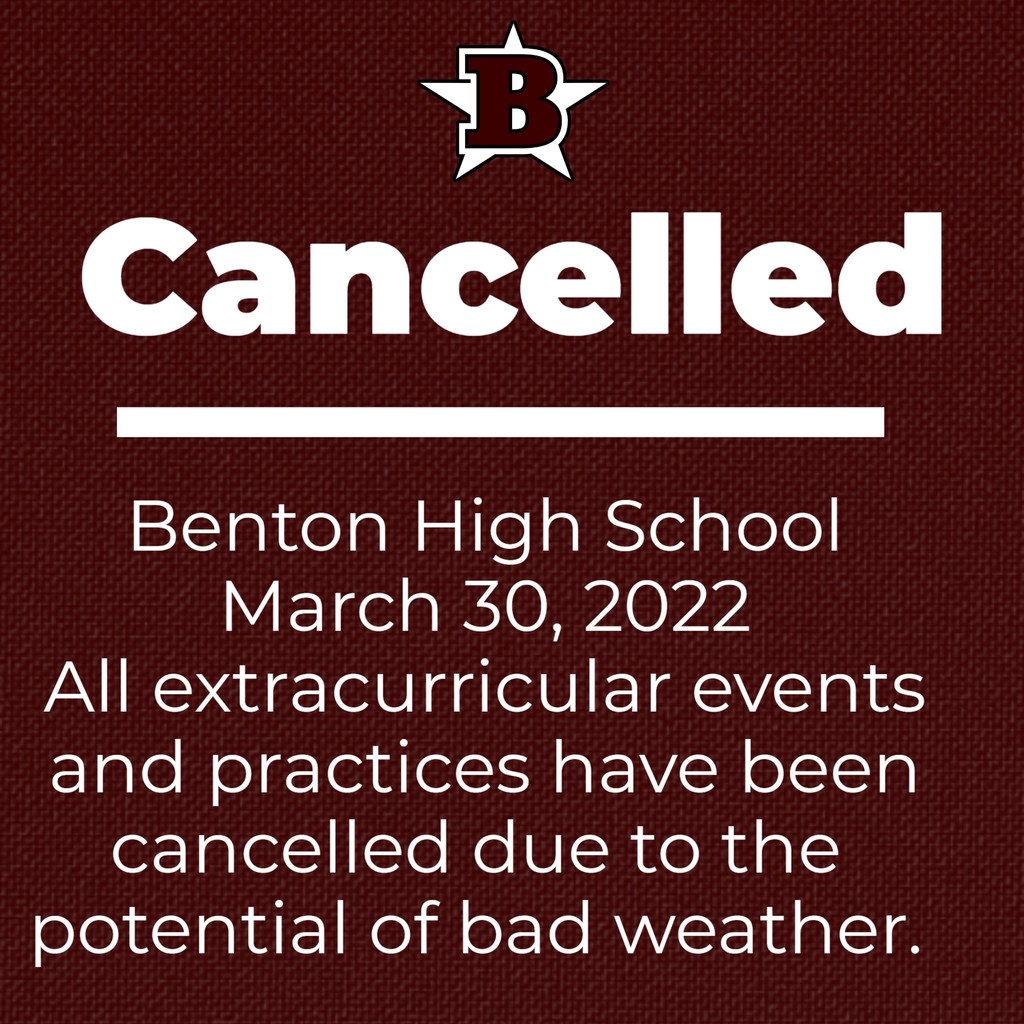 BiCounty Health Department will be at BCHS on April 21, 2022 to provide Meningococcal vaccines to any student age 16 or older. Paperwork has been mailed to the parents of sophomore and junior students who meet the required age. (This immunization is a mandatory requirement for all students entering their senior year.) Please complete the paperwork by Monday, April 14, to take advantage of this opportunity The deadline for Juniors (Class of 2023) to get the Meningococcal immunization is May 2, 2022.

Updated 2021-22 School Calendar: Due to the use of one emergency day thus far, the final day of student attendance has been moved back to Monday, May 23, 2022.

BCHS has a part-time assistant cook opening immediately. Applications must include the following: • Letter of application • Application Form (found on the District website under the Board & Administration tab) • Resume with references Applications should be should be sent to: Benton High School Superintendent's Office 511 East Main Street Benton, IL. 62812 or via email to
bjohnson@bentonhighschool.org
Application deadline is Friday, April 8, 2022.

Graduation for the Class of 2022 is scheduled for Saturday, May 14, 4:00 p.m. at Tabor Field.