NOTICE OF PROPOSED E-LEARNING PLAN FOR BENTON CONSOLIDATED HIGH SCHOOL DISTRICT 103 A Public Hearing to approve a proposed e-learning plan for Benton Consolidated High School District Number 103 will be held on December 16, 2021 at 4:30 P.M. at Benton Consolidated High School in the Board Room. The BCHS Dist. 103 Board of Education will employ an eLearning program that meets all of the requirements in accordance with 105 ILCS 5/10-20.56. Any person desiring to receive a copy of the proposed plan or appear at the Public hearing and present testimony may contact Mr. Benjamin Johnson, Superintendent, 511 East Main Street, Benton, Illinois 62812, telephone (618) 439-6415.

Just a reminder, today is an early dismissal schedule, students will be dismissed at 1:50. Have a wonderful break!

Retake pictures will be on December 8th. If you want to retake your class picture, or didn't take a class picture in October, this will be your last chance. Please sign up for retakes outside Mr. Eldridge's classroom. You must sign up before Tuesday to be allowed out of class on retake day.

Reminder to students and parents: There will be no school on November 11, in honor of Veterans Day. There will also be no school on November 24-26, in honor of Thanksgiving.
Benton Ranger Football Playoff Game Round 1 Information: Chair Seat Tickets for the 1st Round Football Playoff Game will go on sale starting tomorrow, October 26, 2021. -If you currently have Stadium Club seats, you may purchase the number of seats you bought for the regular season from 8:30-9:30 A.M. -Parents of Football players, Cheerleaders, Rangler Girls, Faculty and Staff who do NOT currently have regular season chair seats may purchase seats from 9:30-10:30 A.M. (LIMIT-2) -Students may purchase chair seats from 1:30-2:30 P.M. (Unlimited chair seats may be purchased from the students at this time) -General Public may purchase chair seats from 2:30-3:30 P.M. (Unlimited chair seats may be purchased at this time) -All tickets will be $5.00, No passes will be accepted -Game is scheduled for Saturday, October 30, 2021. Game time: 2:00 P.M. Gates will open at 12:00 P.M. -No General Admission seats will be sold at this time, they may be purchased at the main gate on GAMEDAY.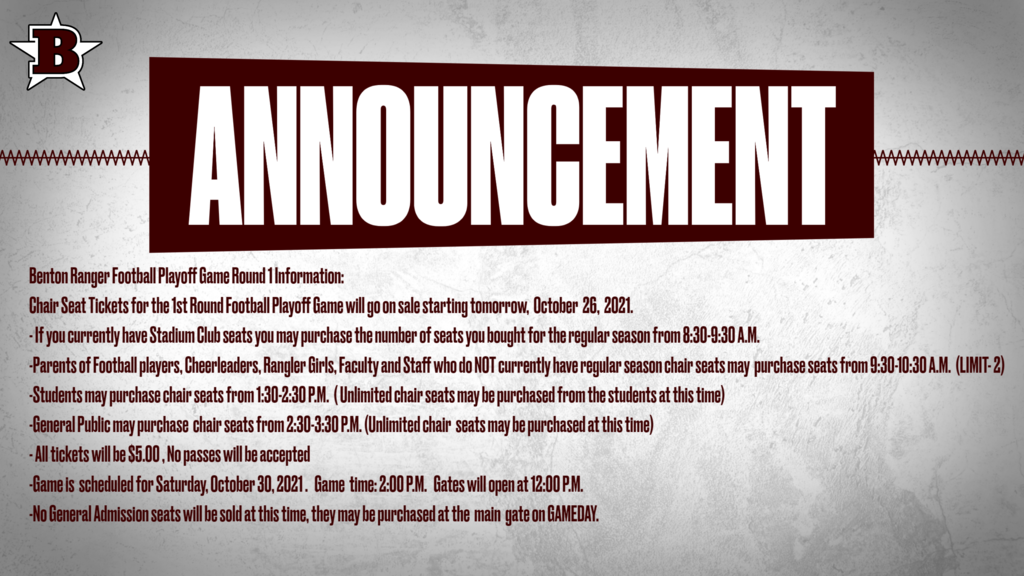 Reminder to students and parents: we will be on an early dismissal schedule (1:50pm dismissal) Tuesday, Wednesday, and Thursday this week for parent/teacher conferences.

A quick reminder: Today is an early dismissal day, students will be dismissed at 1:50. Enjoy your fall break!

Parent-Teacher Conferences will be held via telephone, email, or other virtual means this year. Conferences will be conducted on Tuesday, October 19 and Thursday, October 21 from 3:00 p.m. to 6:00 p.m. each day. Please email your child's teachers to request an appointment. Teacher contact information is available on the school's website under the menu tab, click on the staff icon.
Just a reminder: Picture day will be Wednesday, October 6th.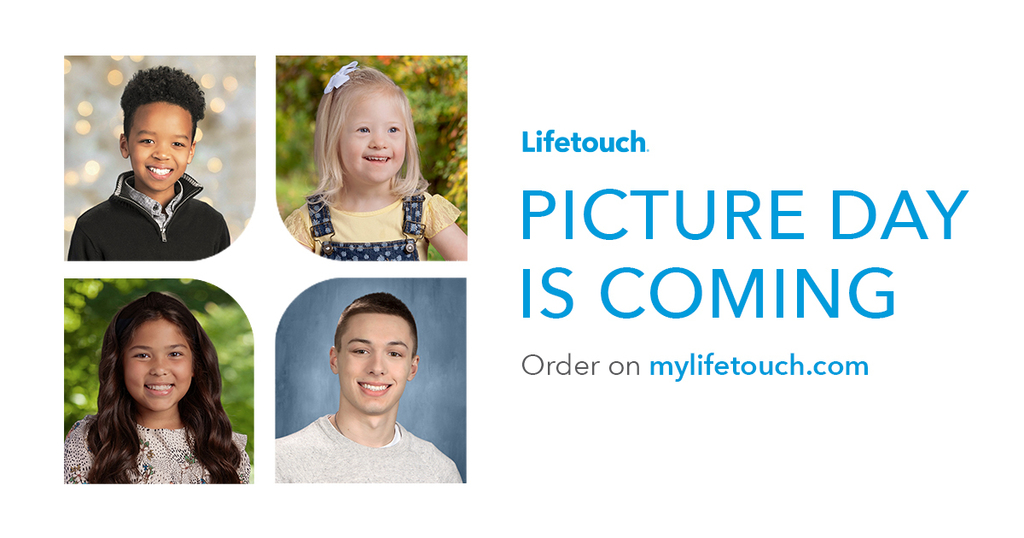 Class shirts are available for purchase next week.

Dental Safari is coming to Benton High School! If you are interested, please fill out the Dental Consent form found at
www.dentalsafariforms.com
, or print out the following form and have your child bring it with them:
https://5il.co/ykud
.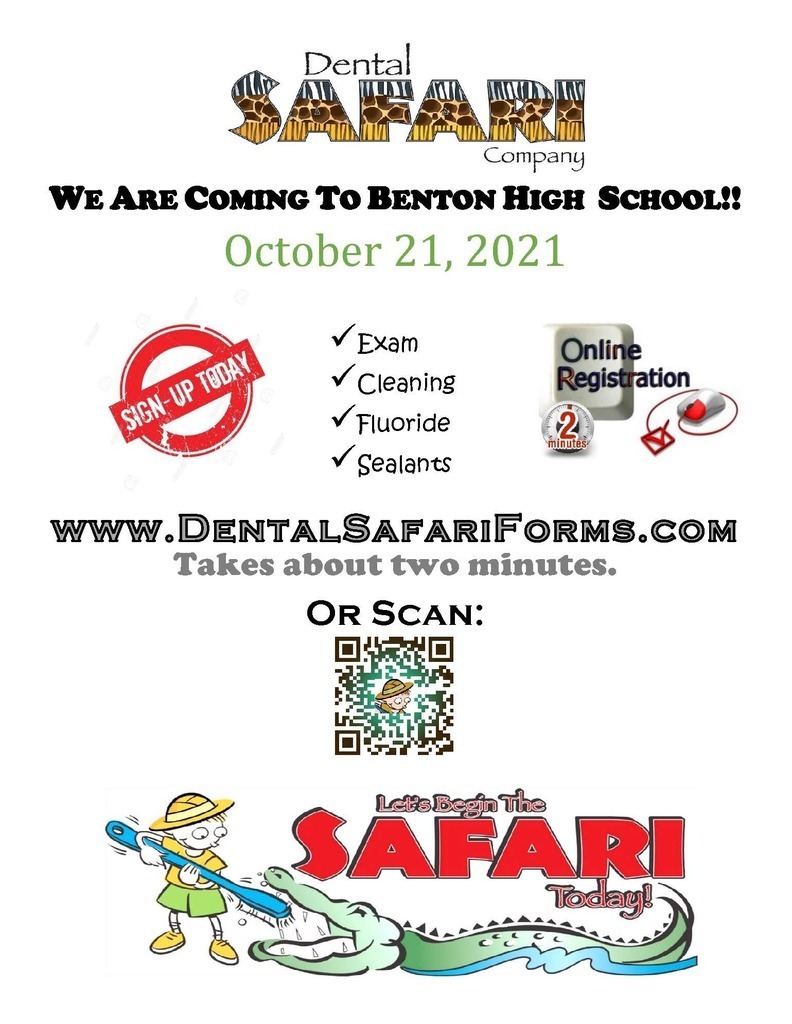 Mask Requirement - All spectators and participants at indoor events at BCHS will be required to wear a mask. The first indoor spectator event at BCHS will be the volleyball game tomorrow night in the east gym. Thank you in advance for your cooperation in adhering to this request.

We are excited to see all of our students tomorrow! The following is a list of quick information for parents and students. 1. Students' first day will be tomorrow, August 11th (Wed). 2. The doors will open at 7:50am each day. The 1st period tardy bell will ring at 8:05am. 3. We will run a 1:50pm dismissal through August 20. 4. All students will enter through the "main entrance" each day. Upon entrance into the building, students will report directly to their 1st period class. For those students that want school breakfast, they can get a "grab and go" breakfast on their way to their first period class. 5. Breakfast and lunch are free for the 2021-2022 school year for all students. 6. All seniors will have "open campus lunch" for the 2021-2022 school year. 7. The 1st day schedule tomorrow will run all 8 classes (35 minutes each). Students will go to all four of their A day classes and then their four B day classes. 8. The lunch schedule for tomorrow will be determined by your B1 class. B1 classes is downstairs will follow the "lunch A" schedule. B1 classes is upstairs will follow the "lunch B" schedule. 9. Any student that has not already picked up their Chromebook can do so tomorrow morning upon entering the building. Chromebooks will be picked up in the Commons. 10. Any student that has not registered or doesn't have access to a schedule, will report to the guidance office. This is a quick reminder that our page is not monitored for comments. If you have any questions or need assistance, please call the high school during business hours at 618-439-3103. Thank you and have a great evening!

Chromebook Pickup Tuesday, August 3, from 9am-noon Wednesday, August 4, from 4-7pm All students will be required to use a school-issued Chromebook this year (no bring-your-own-device). Any student who is unable to pick up their Chromebook during this time can pick them up on the first day of school.

Online registration has been extended until 12PM on Friday, July 30th. If you have any issues accessing online registration, please contact
OnlineRegistration@bentonhighschool.org
, and we will get back to you as soon as possible.

Student schedules for the 2021-2022 school year are now viewable through TeacherEase. For schedule changes, students need to complete the following google form:
https://forms.gle/oAWRTF7JJXzC9J2HA
. For questions about schedules please email Dr. Martin at
mmartin@bentonhighschool.org
. To access from a desktop (this is the more viewer friendly version): Login to teacherease.com Hover over the "academics" tab at the top of the page Select the top option, "schedule" The default schedule is Fall 2021, however students can see their spring schedule by changing the grading period to spring From the TeacherEase app: Select "more" at the bottom right of the screen Select "schedule" Select 8/12 to see A day schedule, select 8/13 to see B day schedule Students can see second semester schedules by selecting dates in January

Week of July 26, 2021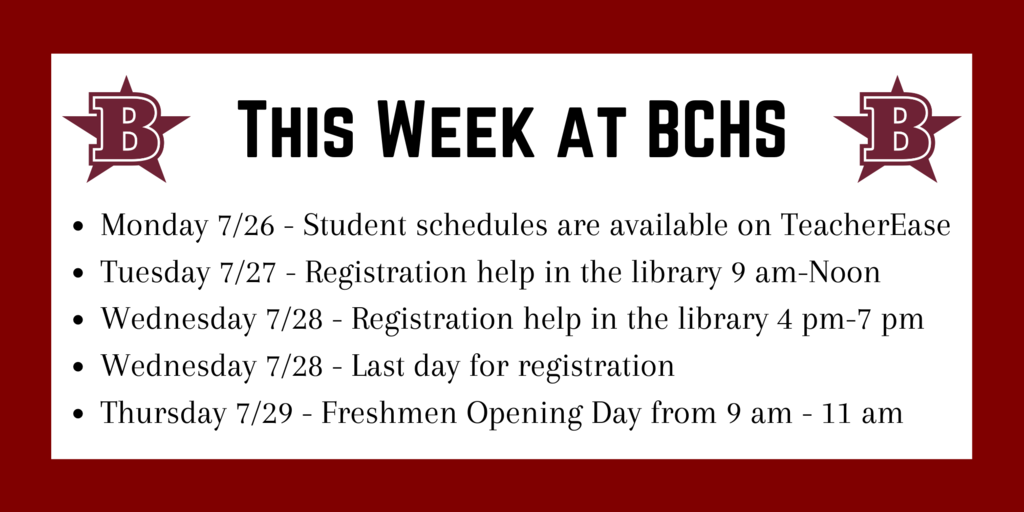 You may be eligible for a discount on your internet bill! The Emergency Broadband Benefit (EBB) is designed to provide a $50 discount on home connectivity costs for those who are eligible for the funding. One of the qualifiers for this discount is the National School Lunch program. This means any student who qualifies for the free or reduced lunch program in your district could apply and ask for a discount on their internet access charges. You can find out more about this program by visiting
https://getemergencybroadband.org/
.

Are you interested in learning how to fly a drone and take aerial pictures and videos? Anyone is welcome to this four day session that begins next week! Sign up by emailing Mrs. Suver at
msuver@bentonhighschool.org
.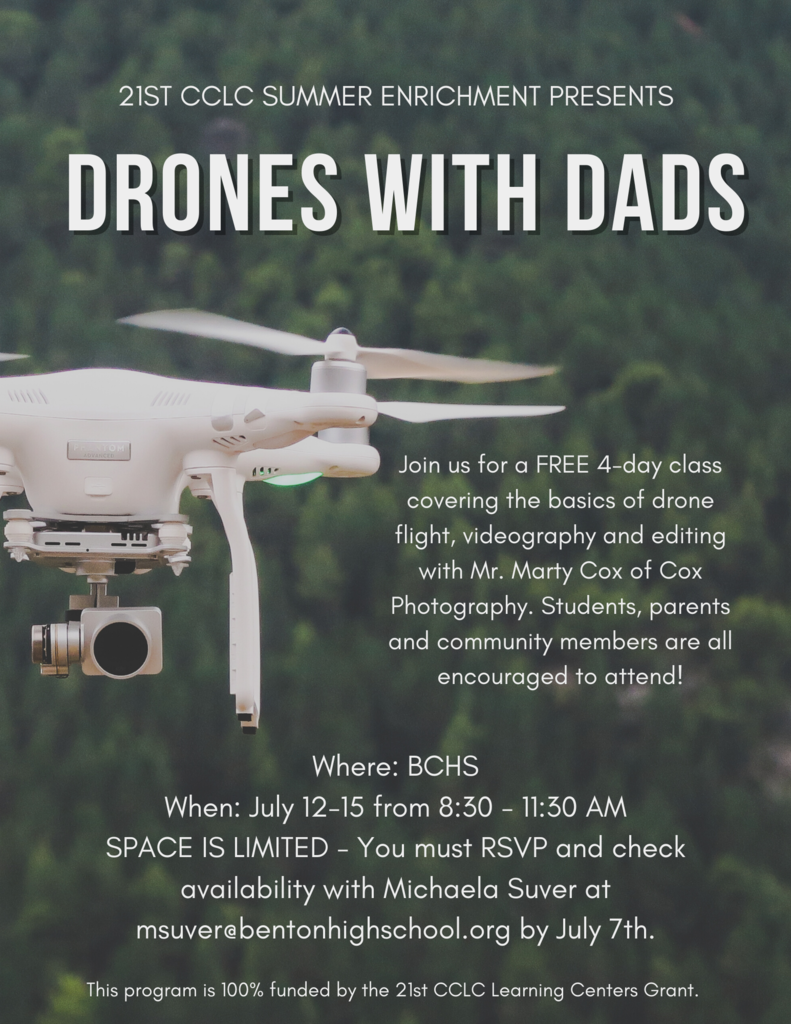 2020-21 yearbooks are currently being printed and will be delivered early in the fall semester. Delivery date will be announced ASAP.